Our sales team is dedicated, knowledgeable and efficient.  Let them help you get fitted for your perfect ride today.  
Sales
Anthony
Sales Manager
Anthony has had a love for motorcycles for as long as he can remember. He started his career in the motorcycle industry in 2005.

His favorite Harley is the Street Glide.
Kenzie
Title Clerk
Kenzie's dad introduced her to motorcycles when she was around 12 or 13 years old and she has loved them ever since. She began her motorcycle career in May of 2021.

Her favorite Harley is the XL1200X Sportster Forty-Eight.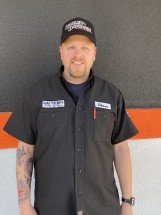 Shaun
Sales
Shaun has loved motorcycles since he was a kid. He got a dirt bike at young age and it has carried on throughout his life. He began his career in the motorcycle industry in April 2021.

Shaun's favorite Harley is the Road King Special.